Floyd Mayweather Jr is one of the most successful boxers of all time, that's why Vidello productions is taking a look at 10 expensive things he owns and his net worth.
---
---
---
---
10 EXPENSIVE THINGS OWNED BY FLOYD MAYWEATHER JR
---
10 – Gulfstream G5 Private Jet
The Gulfstream G5 private jet is produced by Gulfstream Aerodynamics in Savannah, Georgia and Floyd has had his custom made to include all the trappings of luxury.
The plane features custom made seats, on-doard mini-bar and several flat-screen TV's are dotted around the cabin.
Floyd has recently purchased a second private jet, as these days, one private jet for the star is just not enough.
This custom made, 12-seater plane has gold lining throughout, gold sinks and even gold cup holders as well as a fully stocked kitchen.
Both planes, when purchased back in 2016, came in at a staggering $74 million dollars.
---
9 – Las Vegas Mansion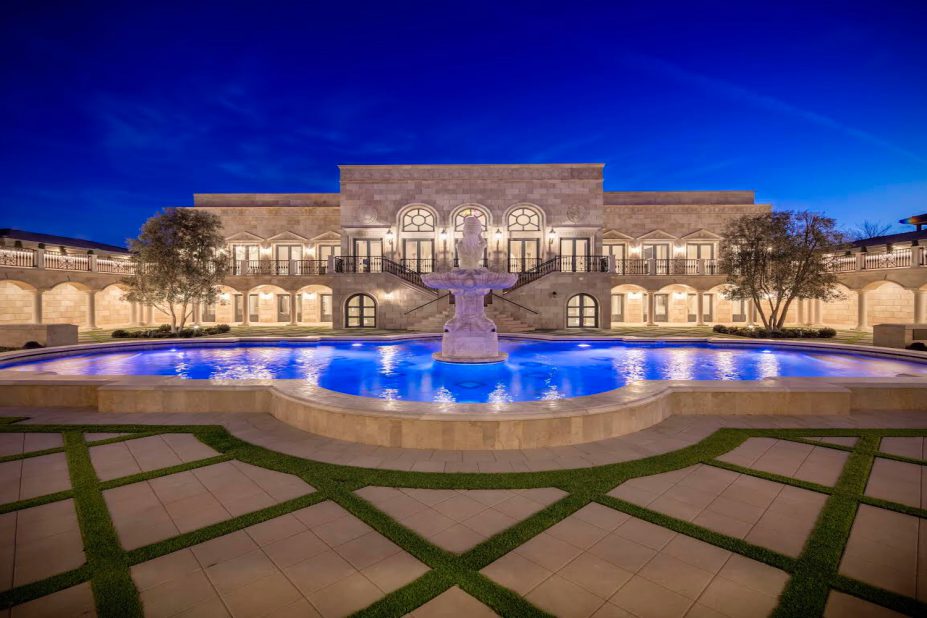 This massive 20,000 square foot house is so large, it has its own Instagram account and is filled with over-the-top luxury features including a movie theatre, multi million dollar garage and random stacks of cash just lying around.
The house features numerous bathrooms and bedrooms, along with a private pool, a walk-in wardrobe the size of a small living room, home gym, toilet with its own 32 inch TV and rumors of a 12-person shower have done the rounds on the internet.
---
8 – Las Vegas Penthouse
When Floyd Mayweather is not living at his Las Vegas Mansion, he is living it up at Palms Place, high above the Las Vegas Strip.
This incredible penthouse features a games room, two bedrooms, and 2.5 bathrooms with a mastersuite included with a large soaking tub.
The infinity edge spa extends out onto a private balcony with amazing views of the Las Vegas skyline and the 3,142 square foot pad has custom lighting, hardwood flooring and wooden walls.
Its thought that Floyd paid roughly $1.81 million dollars for this amazing penthouse.
---
7 – Miami Mansion
This 5,200 square-foot home in Miami, features five bedrooms, five bathrooms, a floating staircase, formal living and dining rooms, 600 square foot pool and a private dock.
The home features a kitchen fit for a king while other features include a gated secure driveway and lush gardens to the rear.
The home is also protected by a 10-foot, 360 degree privacy fence to keep out his hordes of adoring instagram fans.
The home features a roof-top relaxation area, complete with a spa and 40-foot sails, while the property was most recently on the market for $8.49 million dollars, but apparently Mayweather paid $7.7 million for the home in cash.
---
6 – Duffel bag
Just when you thought how much can one duffel bag actually be worth, try $1 million dollars, at thats exactly how much Floyd Mayweather has been known to carry around with him in a secure body-gaurded duffel bag.
Its claimed that Floyd takes one of these bags with him wherever he goes and that on a light evening he may spend up to $60,000 dollars.
---
5 – Car Collection
Floyd Mayweather has to have one of the biggedt and best super-car collections of all time with three-seperate color coded fleets that he parks at various homes dotted around the united States.
These cars include a Lamborghini Aventador, three custom-made Bugatti Veyron's, Rolls Royce Drophead, Ferrari 599, Ferrari 458, Rolls Royce Phantom, Custom made Ferrari F430 and a further fleet of Lambo's and Bently's.
The cars on the east coast are colored white, while his cars on the west coast are black and the estimated value of this insane collection has been put at $75 million dollars.
---
4 – The Land Yacht
You are probably wondering what the heck is a land yacht? Well, this custom made luxurious party bus is kitted out with everything this professional boxer needs to relax in style when travelling about.
The van features a 55 inch TV with access to both Apple and direct TV, surround sound stereo system, Maybach heated massage chairs, champagne bar and its own cabin lighting stsyem.
Its been reported that Floyd Mayweather dropped $300,000 dollars on this party van which seems to be able to accommodate a number of guests along for the ride.
---
3 – Diamond iPod
If you thought owning a custom iPod was not extravagent enough, then why now bling it out with hundreds of expensive diamonds.
This is exactly what Floyd Mayweather decided to do and he has been seen wearing the device on more than one occasion.
The iPod has its own custom made control dial made from real gold and no-one has been able, so far, too put a price on it.
---
2 – Footwear Closet
Floyd Mayweather is well known for only wearing a pair of sneakers once and due to that he has built up one of the largest sneaker collections in world history.
Some of these shoes are so rare, that he owns the only pairs in the world and while the whole collection may be worth an absolute fortune, Floyd gets the better part of the deal, by getting most of them for free as the company's want to see him wearing their brand.
Its understood he wears a new pair of shoes every single day and some of the rare shoes he does own have never even been worn.
---
1 – Watch Collection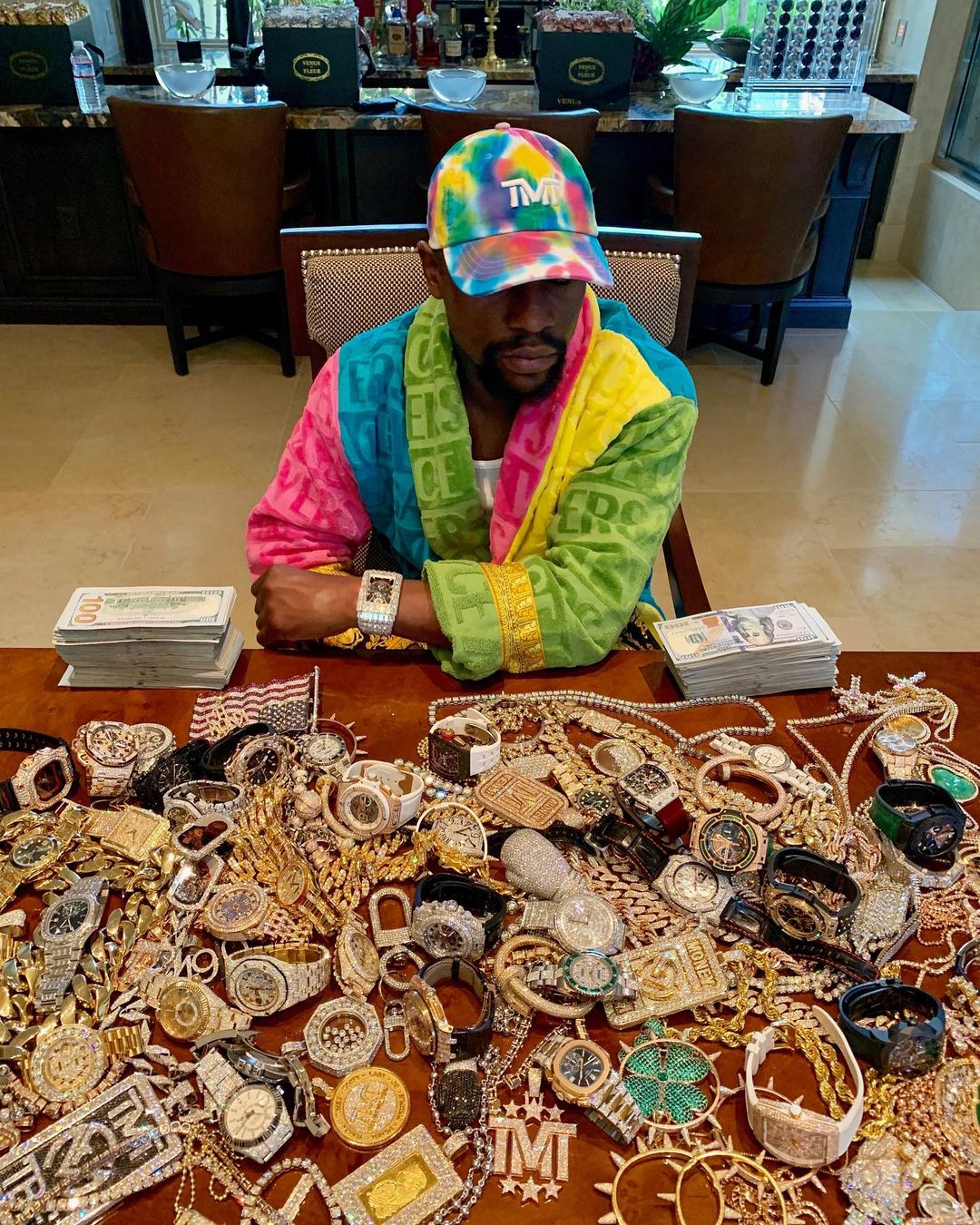 Number one is finally here and we delve inside the insane watch collection of our celebrity boxer and yes, this collection is literally insane.
The collection features 8 Rolex watches, and its estimated to contain one watch from every watchmaker on the planet.
Floyd is thought to own more watches than the average person will ever see in their lifetime, some are custom made and some are unique.
Some watches he has never even worn, but rest assured, this $6.4 million dollar collection is one of the most valuable in the entire world.
---
---
---
---
Thanks for reading this article on 10 Expensive Things Owned By Floyd Mayweather Jr please check out the videos above and more great content spread over the website.