Odell Beckham Jr owns some amazing cars and houses, In this video, will from Vidello looks at 10 Expensive Things owned by the legend that is Odell Beckham Jr.
---
---
---
---
10 Expensive Things Owned By Odell Beckham Jr
---
10 – Richard Mille Watches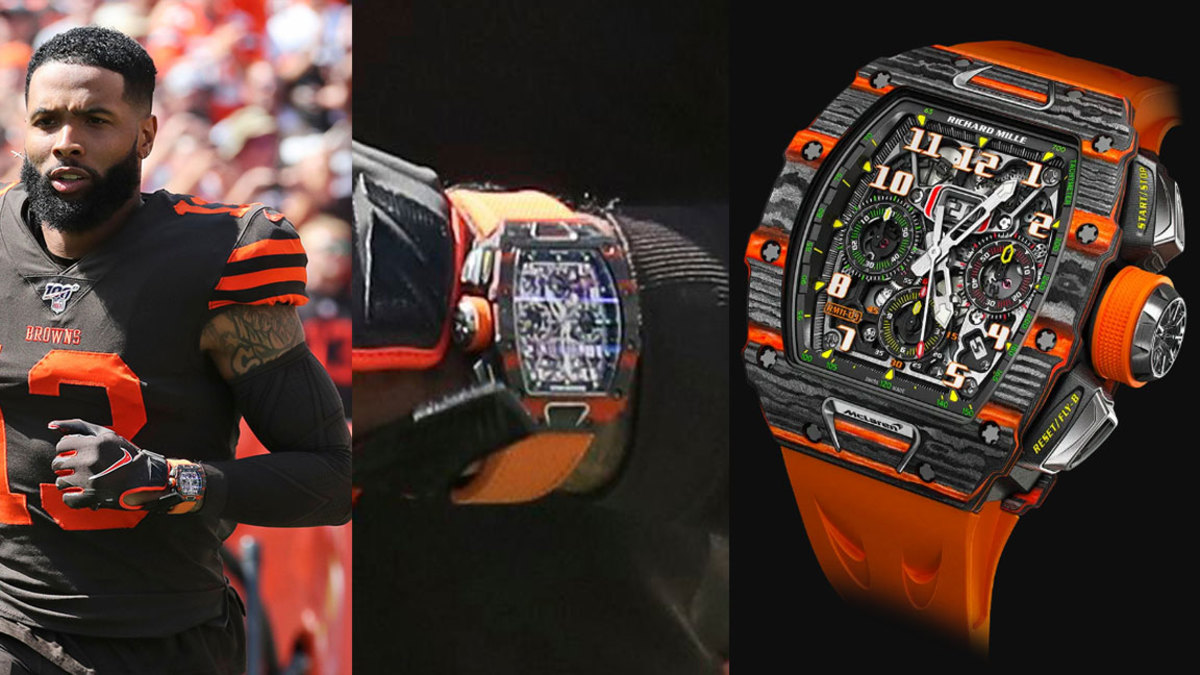 Costing Odell Beckham Jr over $350,000 dollars, his Richard Mille watch is more expensive than some Rolls Royce Cars, yet he did not even bat an eyelid when purchasing it.
The watch was warn by Odell during an NFL game, yet the rules strictly prohibit the wearing of such items on the field during games.
Odell gave an interview after the game stating that if he had not worn the watch, it would have been something else people would have complained about, such as his shoe laces being tied incorectly.
He has also been seen wearing another watch, the Richard Mille 11-03 Mclaren, which costs close to $2.2 million dollars, yet this time, and for good reason, he opted not to take his timepiece on the field.
---
9 – Hudson County Home
Featuring 3,500 square feet of living space and covering three levels, Odells home features its own hidden man cave and large terraced areas.
The master suite covers the entire top floor and has stunning views of the city with the en-suite bathroom having a massive walk-in steam shower.
Nanawalls cover the home and open to allow the room to become indoor-outdoor with the push of a button and the impressive kitchen has everything a budding chef needs.
OBJ once even stayed at Drake's hidden hills home saying it was the best house he had ever seen in his life.
---
8 – Rolls Royce Wraith
Custom designed and hand-built, Odell Beckham Jr had his Rolls Royce Wraith wrapped white with Rose Gold detailing on the trim, rims, wheels and door handles.
The Wraith could easily set you back up to $350,000 dollars, yet with all the customization required for OBJ, it could easily have cost him half a million dollars.
The Wraith has a top speed of 155.2 mph, is powered by a 6.6 litre V12 engine and has a 0-60 speed of 4.3 seconds.
His car features the optional star-lit roof, night vision driving mode, custom pedestrian warning system and a $9560 dollar custom 18 channel bespoke audio system.
The amazing spirit of ecstasy controller is in the middle and the heads up infotainment system has a junction view for navigation that can help with complex intersections.
---
7 – Custom Mercedes Benz GLC AMG
One car is never enough for a sports personality such as Odell Beckham Jr and he oozes clas and style with his $40,000 dollar custom matte black Mercedes Benz GLC AMG.
New features include LED headlights, Mercedes Benz user experience or MBUX for short, includes wireless charging, voice control and full-smartphone integration.
This car comes with its own specialist parking package with 360 degree camera's, driver assistance package and multi-beam LED technology.
Other great features on the car include adaptive suspension, all wheel drive, electrified engine and one of the best lane departure warning systems around.
---
---
6 – Diamond Earrings
Odell's sense of fashion could be considered sharp, with everything from his flaming red suit to his casual black and white tux.
But nothing quite stands out like his pair of diamond earrings that feature gold flails and look like two panthers.
His panthier de Cartier earrings are sure to have set him back around $36,000 dollars with each earring having white gold, diamonds, emeralds and oynx.
Each earring is set with seventy six brilliant-cut diamonds with a sleek predatory design.
---
5 – Rolls Royce Cullinan
Bought and paid for by Odell Beckham Jr and created by DreanWorks Motorsports in North Carolina, his custom Orange Rolls Royce Cullinan sits on custom painted 26 inch Forgiato wheels.
The Cullinan has a top speed of 155mph, a 0-60 speed of 6.7 seconds and a price tag in the range of $325,000 dollars.
Along with the custom Dawg Pound Orange wrap, the car is finished off with glass black accents and black alloy wheels.
The car has OBJ's official logo in the center and features a V12 6.7 liter engine that can kick out 420 Break Horsepower and provides a combined 19 miles to the gallon.
---
4 – Diamond Teeth
If you are frightened of a trip to the dentist then the same cannot be said for Odell beckham Jr as he is well looked after while going under the drill, especially when spending $5000 per visit.
Yes, thats how much it costs to install these diamond shapped crosses onto his teeth that can never be removed.
The crosses, which were affixed by New York City implant and cosmetic dentist Dr. Lee Gause that included a porcelain vaneer and 3D model of his entire mouth.
Well, if your going to visit the holy land for your holiday, you might as well get the local sculptures affixed to your smile.
---
3 – Mercedes Benz CLS63 AMG
The final car in the collection of Odell beckham Jr, his Mercedes Benz CLS63 AMG is worth a staggering $108,000 dollars and was custom built for him by Dreamworks Motorsport's.
The car has a 5.5 litre V8 engine, 19 inch alloy wheels, semi-aniline leather seats and a 7-speed automatic transmission.
Other features include ABS and driveline traction control, remote keyless entry, voice activated navigation system and active parking assistance.
The car has a Sirius seek scan radio, LCD touchscreen display up-front and both heated mirrors and rain sensing wipers can handle mother nature like a boss.
---
---
2 – Chuck Taylor Shoes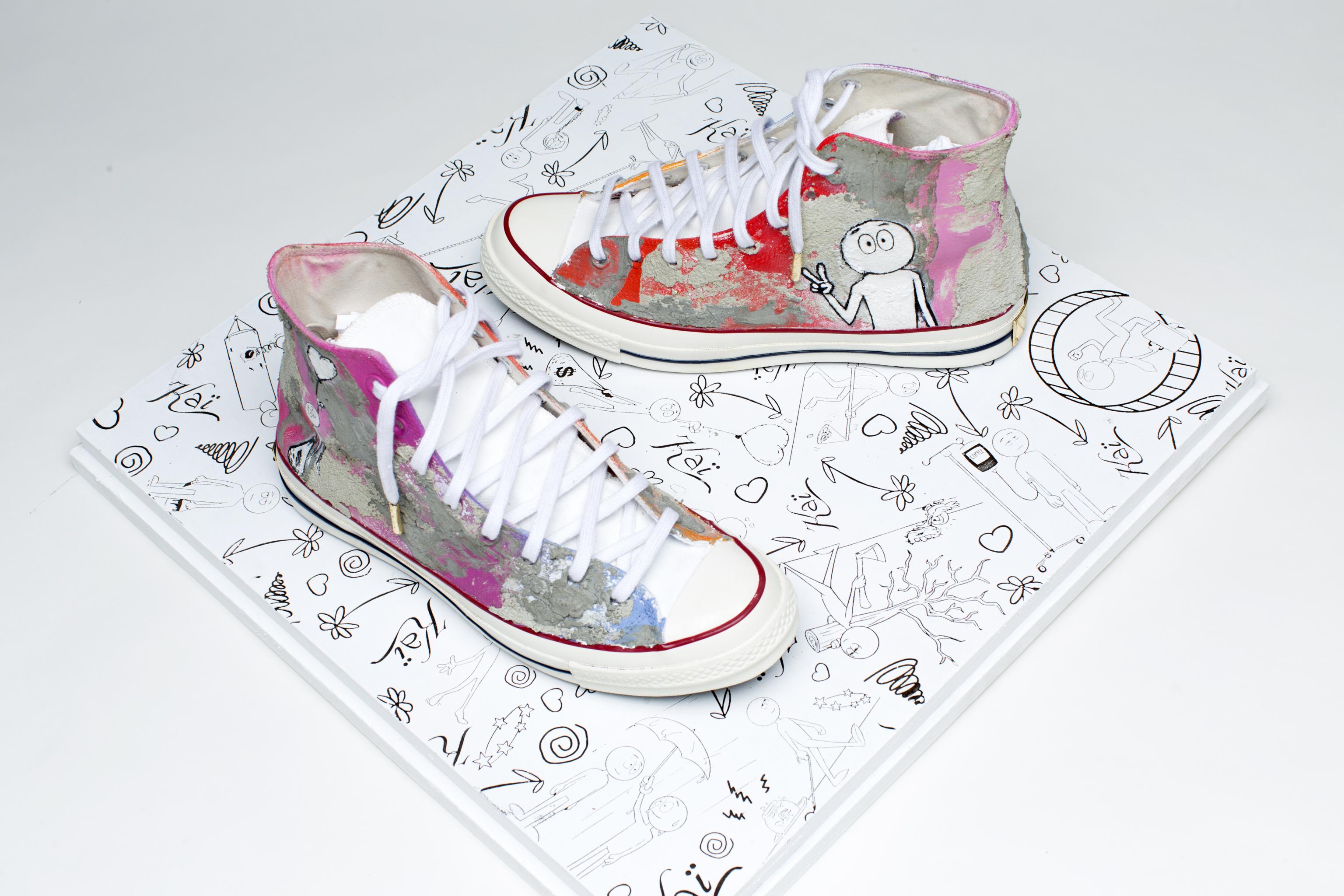 Widely considered to be the most expensive pair of Chuck Taylor Shoes anywhere in the world, these beauties cost OBJ around $20,000 dollars.
Commissioned by Odell using renowned designer X Kai, the shoes are paint splattered and even have cement on the outside.
Nike Air Max 720's feature heavily in his collection and he even purchased 100 pairs for a college team who had re-formed for their next season.
One side of his Chuck Taylor Shoe features a white spray-painted figure throwing up the peace sign and was influenced by the signs for men's and women's restroom's.
The shoe also incorporates 24 Karat gold shoelace tips and plaques on the heel and comes with a custom engraved box.
---
1 – Wider Sneaker Collection
If you thought Odell beckham Jr's Chuck Taylor shoes were impressive then wait till you see some of the shoes in his wider sneaker collection.
His main collection includes his very own branded pair of Nike X Odell Beckham Jr trainers that are thought to consist of only 200 pairs and are valued at a couple of hundred thousand dollars.
---
---
---
---
Thanks for reading this article on … please head over yo our YouTube channel and hit the subscribe button to help us on the road to and check out more great content on the website!