KSI vs. Logan Paul and DEJI vs. Jake Paul was the biggest YouTube event ever. Today, Vidello Productions looks at 13 expensive things owned by KSI vs. Logan Paul vs. DEJI vs. Jake Paul.
---
---
13. Private London Estate Mansion—KSI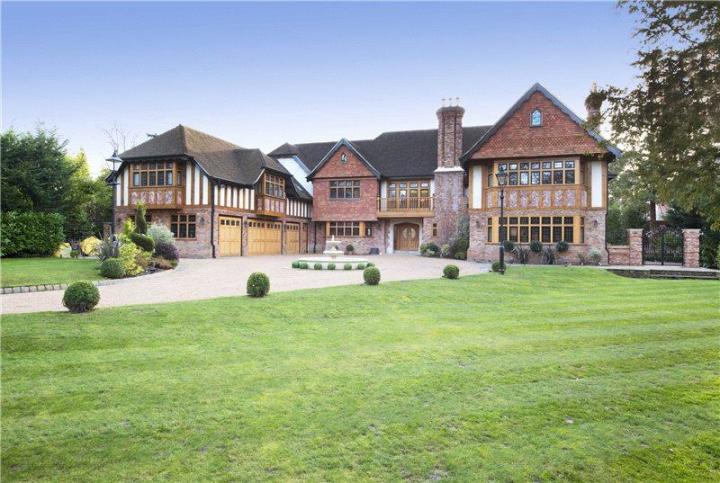 With a net worth of £7.9 million dollars and a subscriber base of over 20 million people, YouTube star KSI recently moved into this £4.9 Million pound home.
The YouTube FIFA star is set to take on Logan Paul on August 25th, 2018 with a re-match event taking place in the US before February 2019.
The home is located on the outskirts of London and sits behind high walls, is covered in CCTV cameras, and has 24/7 mobile security guards.
Nicknamed "The Sidemen House," this home has several of KSI's YouTube co-workers living inside it and the home was thought to have been constructed in 2015.
It has a pool complex and sauna, six en-suite bedrooms, a cinema, gym, and beauty salon. The best part of the home, you ask? KSI's bedroom has its own elevator!
12. Tesla Model X—Jake Paul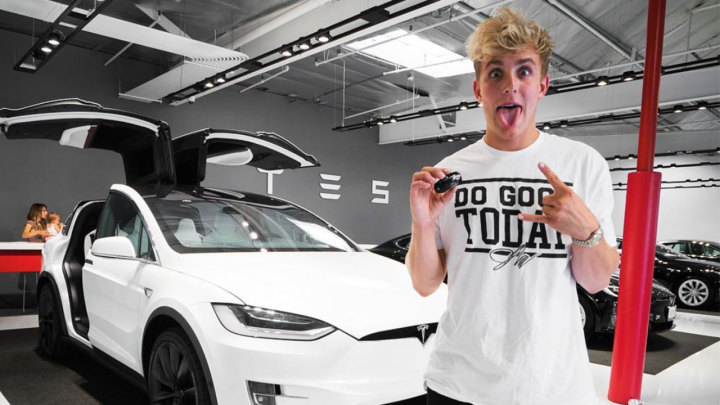 While KSI takes on Logan, his brother, DEJI, will take on Jake Paul, who has a personal net worth of around $8 million dollars.
He recently got his hands on a Tesla Model X, which is thought to cost between $132,000 and $143,000 dollars.
Ranked in 2016 as seventh among the world's best-selling plug-in cars, the Model X has a top speed of between 130.5 to 155.3 MPH and can hit 60 MPH in as little as 3.2 seconds.
The Model X does not come with autopilot as standard but has an optional Enhanced Tesla Autopilot and a collision avoidance system that uses radar-based autonomous emergency braking and side-directed ultrasound detection that steers the car away from threats.
11. The Cool Bus—Logan Paul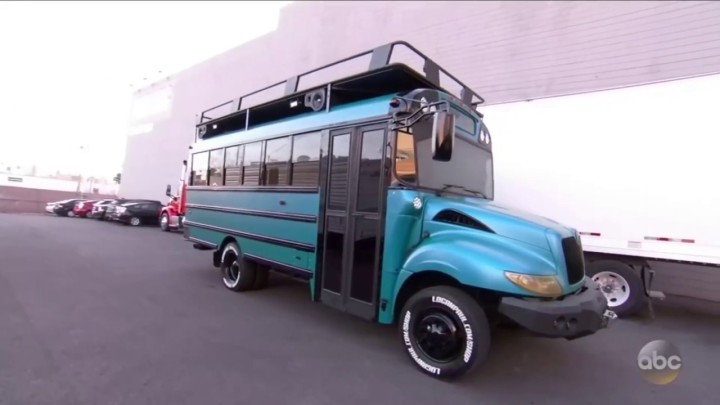 Most of Logans fans will know that he purchased an actual school bus for somewhere close to $110,000 dollars.
He went up to West Coast Customs and got the whole bus decked out with TV's, lights, speakers, wi-fi, a bathroom, and of course a ton of Maverick branding all over the bus.
The customization of the bus was put into several vlogs and the bus was eventually named "The Cool Bus." …We can see why!
10. Maverick Chain—Logan Paul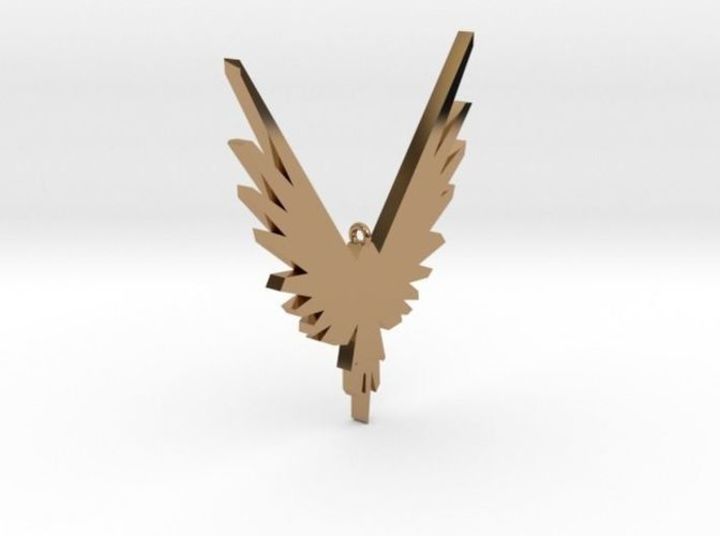 When you think of necklace chains and expensive bling, you think of millionaire rappers, interestingly enough, why not check out our top 25 rappers video in the description!
With that, we take a look at Logan Paul's diamond-covered Maverick Chain which he had custom made in the design of his business branding.
He is very passionate about the brand and purchased this custom, iced-out Maverick chain that cost him around $20,000! And he was not done with bling just yet…
Another crazy purchase that's not on the list, is his set of diamond grill teeth that even has his name on them!
9. Lamborghini Aventador—KSI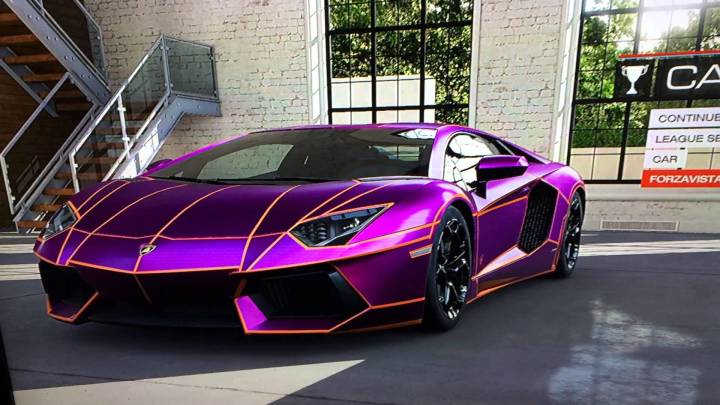 Cars are quite a thing for KSI, and when it comes to his Lamborghini Aventador, he does not pull any punches…or maybe he does?
His Lamborghini Aventador was custom wrapped by Yanamize in London and looks like something out of the Tron movie, wrapped in purple with neon orange strips.
KSI's ride comes with a top speed of 217.5 MPH, a 0-60 speed of 2.9 seconds and is powered by an insane 3.5-liter V12 engine weighing 235 KG.
The car is thought to have cost KSI close to $400,000 dollars (£304,150), and the car comes with sat-nav, Bluetooth and USB connectivity, dual-zone climate control, automatic lights and wipers, bi-xenon headlights and 20 inch alloy wheels wearing Pirelli P-Zero tires.
8. LA Home—Logan Paul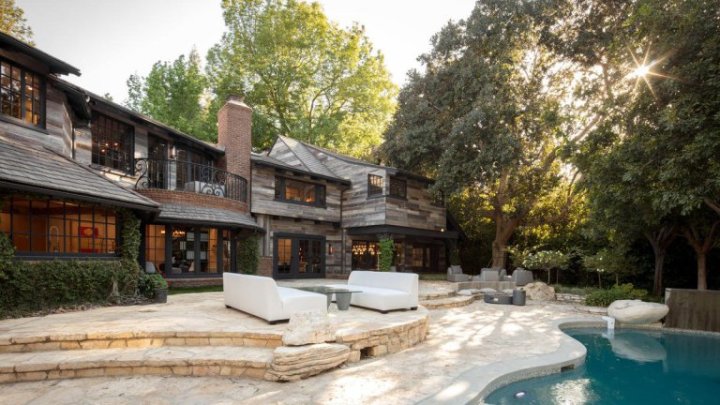 Being one of the biggest stars on YouTube and earning millions comes with some interesting perks…one of them being this massive home which Logan Paul purchased for $6.55 million dollars.
The home has a very exotic and outdoor feel, which is extremely hard to find in Los Angeles and the mansion has it's very own security gate, wine cellar, pool, and even a one bedroom guest house!
The Encino estate features 9,000-square-feet of living space that includes seven-bedrooms, nine bathrooms, a screening room with a projector, and a kitchen with a massive island.
Purchased in October 2017, the home is in the San Fernando Valley region and was designed by architect Robert Byrd in the 1970s.
7. Calabasas mansion—Jake Paul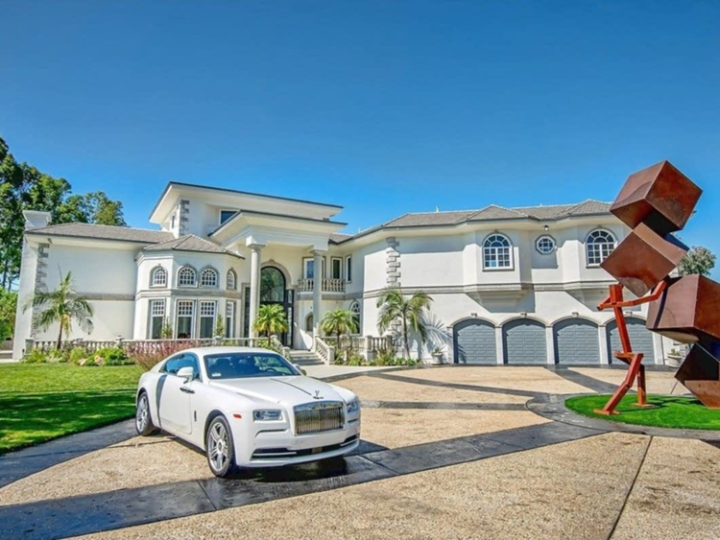 Not to be out-done by his brother, Jake Paul also owns a massive super-mansion that he recently moved into a 15,000 square foot home—yes, it's bigger than his brothers!
The home has a massive driveway with a distinct metal block sculpture in front and the whole property is thought to sit on 3.5 acres.
There are eight bedrooms, 10 full bathrooms, a chilled wine closet, and spa bath in the master bedroom with the home spending only 124 days on the market before he purchased it.
Outside, the grounds include a pool with "multiple waterfalls," two barbecue pits, and a Tesla charging station, with the entire property overlooking the city over the hill.
Privacy is thought to also be on his mind after issues at his previous home and the long driveway, high walls, and large security gate with CCTV should suffice.
6. Porsche Cayenne—KSI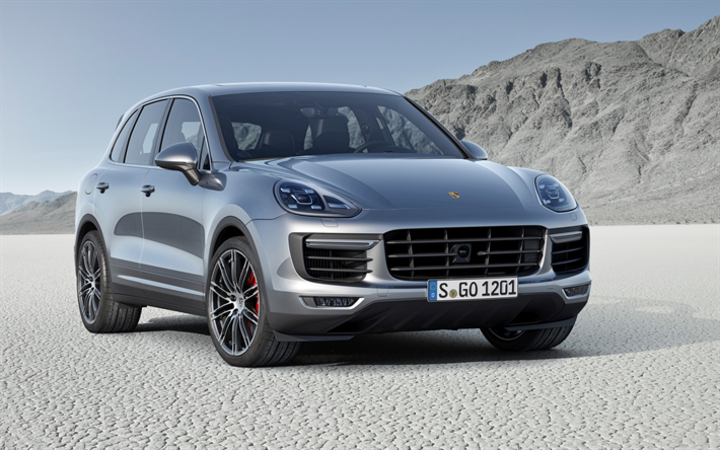 Thought the Lamborghini was the only car that KSI purchased during his time on YouTube? You would be wrong as he has also owned a silver Porsche Cayenne.
His Porsche Cayenne, which is thought to have now been sold, featured a 4.8 litre twin turbo V8 engine with a top speed of 150 MPH.
The car could achieve 0-60 in 4.9 seconds, has optional ceramic composite brakes, bi-xenon headlights, two-tone interior upholstery, MP3 audio, and Bose cabin surround sound.
A six-speed manual transmission is also offered and newer versions of the car are thought to cost around £56,000 pounds.
5. Lamborghini Huracan—DEJI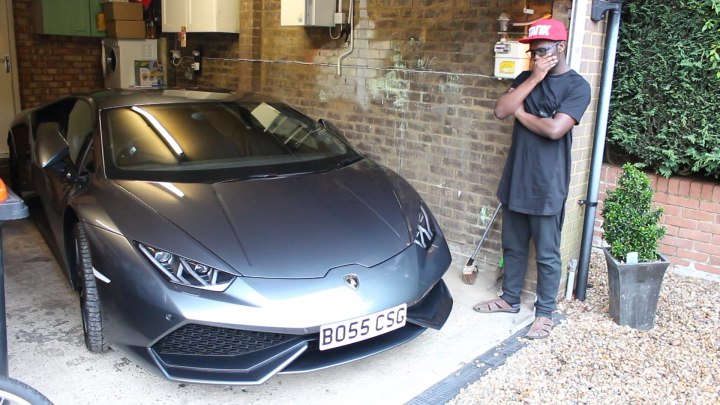 It's known that DEJI, AKA ComedyShortsGamer, and KSI can be a little bit competitive when it comes to their celebrity lifestyles and purchases…and yes, DEJI purchased a Lamborghini Huracan.
This car has a top speed of between 198.8 to 201.9 MPH, a 0-60 speed of 2.8 seconds is absolutely crazy and the switch to rear-wheel-drive is very noticeable.
The car comes with eight-piston calipers at the front with 365 MM steel discs, a 5.2-liter V10 engine, and 7-speed dual-clutch gearbox.
There is, of course, push-start technology and the double wishbone architecture of the Huracán gives it incredible driving results.
4. London Mansion—DEJI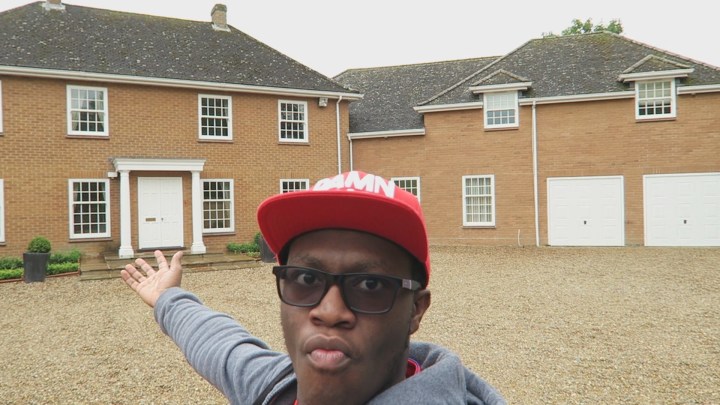 Another purchase by ComedyShortsGamer that, well, maybe puts KSI's Sidemen home to shame is the house DEJI shares with his parents…it's ridiculous!
There has been some speculation as to just what exists inside this house, but from what we have seen in his videos, it does include a large kitchen and home gym.
There is a large garden on the outside, gated driveway and the home features at least a 2-car garage with security also being a top priority.
The home has a full CCTV system that's controlled from the inside, and thanks to a scare with the police last year and constant fan activity, there is possibly also a panic room built into the house.
Expect at least 4-5 bedrooms in this type of home, which is thought o be located on a gated private estate…we guess that means mobile security roaming the site in cars too!
3. Lamborghini Huracan Performante—Jake Paul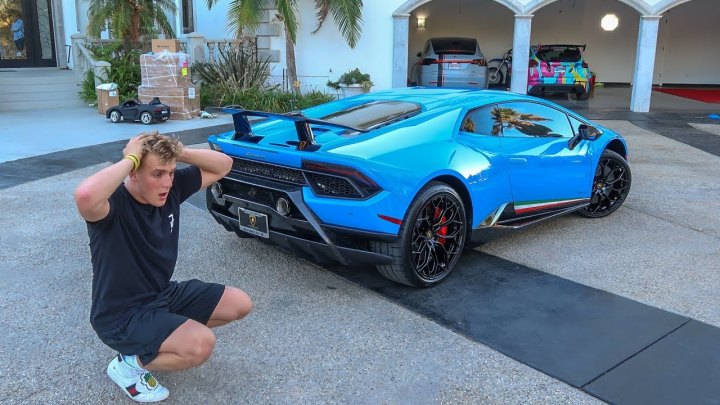 Lamborghinis seem to be a thing among this group of YouTube elite, however, there is something a little bit special about Jake Paul's recent purchase of the Lamborghini Huracan Performante.
It's understood his 2018 Performante was not easy to come by and is thought to have cost Jake Paul around $350,000 dollars.
The car can produce an insane 900HP and this is in part, thanks to the onboard 5.2-litre V10 engine that was unveiled at the 2017 Geneva Motor Show.
There is a 7-speed dual-clutch transmission, a top speed of 218 MPH (351 KM/H) and the car can go from 0–62 MPH (0–100 KM/H) in just 2.9 seconds.
The Huracan Performante is actually a track-oriented variant of the Huracán and underwent various exterior changes with the most noticeable being the front and rear bumpers.
2. Mercedes-Benz G-Wagon—Logan Paul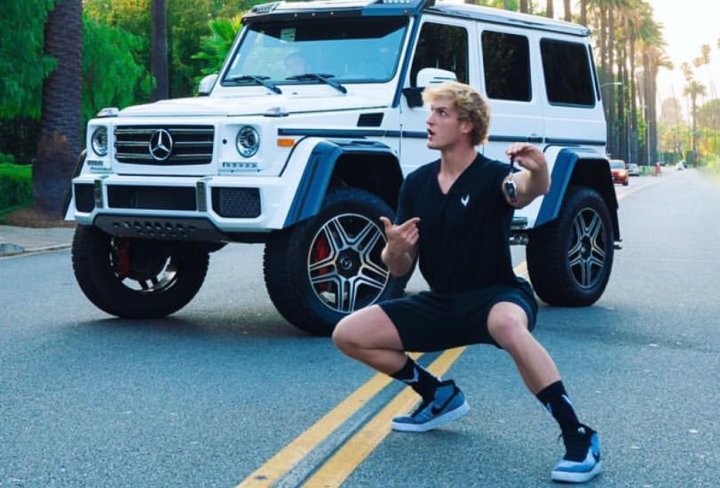 Opting for something slightly different from all the other supercars, Logan Paul dared to be different and purchased a middle-east favourite, the Mercedes-Benz G-Wagon.
This car is what Logan Paul picked up for around £140,000 pounds ($184,428) and it seats five people with a curb weight of 2,560 kg.
The car has a top speed of 137 MPH or can go up to 149 MPH with the AMG® Driver's Package and can hit 0-60 MPH in 4.4 seconds.
Logan's G-Wagon features a 4.0-litre twin-turbo V8 engine and inside there are a great heads up display with comfy seating.
1. Day-Date II Presidential-edition Rolex—Logan Paul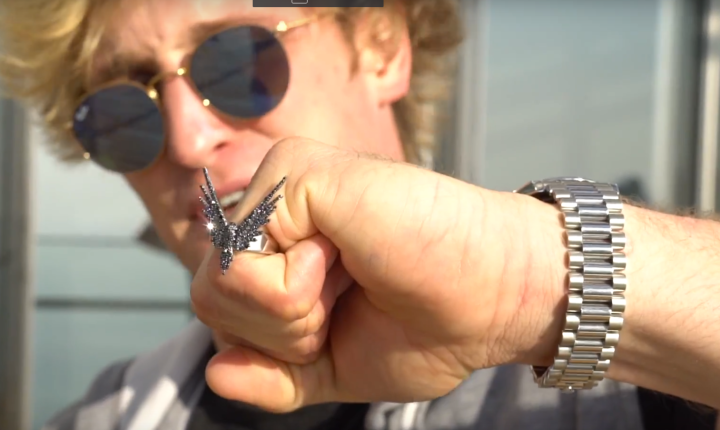 Every good YouTube star need to know the time to help them with their busy schedule and Logan Paul'sDay-Date II Presidential-edition Rolex means he never needs to worry about forgetting it!
His Day-Date II Presidential-edition Rolex is thought to have cost him in the region of $40,000 dollars and features 18k gold with the advanced date and day apertures.
If you're wondering why the watch is called president…this is because a version was famously worn by US President Eisenhower as well as other presidents to this day.
Another watch, which is less expensive and worn by KSI, is the Hublot Big Bang, which retails at around £13,300 ($17,500).
As for watches worn by Jake Paul and DEJI, let us know what they wear and remember to let us know who you think will win the big fights!
Thanks for watching our video on 13 expensive things owned by KSI vs. Logan Paul vs. Deji vs. Jake Paul, please subscribe to our YouTube Channel to help us on our road to 100,000 subscribers!