Catherine, Duchess of Cambridge, GCVO, previously known as Kate Middleton, is a member of the British royal family, today we look at her net worth and lifestyle.
---
DUCHESS OF CAMBRIDGE NET WORTH – $10,000,000
---
NAME: Catherine Elizabeth Middleton
OCCUPATION: Duchess of Cambridge
BIRTHDAY: 9th January 1982
COUNTRY OF BIRTH: United Kingdom
SOURCE OF WEALTH: Family Business
PLACE OF RESIDENCE: Kensington Palace
---
---
EARLY LIFE
Kate Middleton attended an English-language nursery school while the family lived in Amman, Jordan, from May 1984 to September 1986.
When her family returned to Berkshire in 1986, she was enrolled aged four at St Andrew's School, a private school near Pangbourne in Berkshire.
She studied at Downe House School and was a boarder at Marlborough College, a co-educational independent boarding school in Wiltshire.
In 2005 she graduated from the University of St Andrews in Fife, Scotland, and traveled to Chile to participate in a Raleigh International programme.
In November 2006, Middleton worked as an accessory buyer with the clothing chain Jigsaw and later at her parents company.
---
HOUSE
Located in the Royal Borough of Kensington and Chelsea in London, England, Catherine calls Kensington Palace her home.
The State Rooms of the palace are open to the public and the couple live in the four-story, 20-room Apartment 1A, formerly the residence of Princess Margaret.
Renovations took 18 months at a cost of £4.5 million including new heating, electrics and plastering, and the removal of asbestos that included a n ew roof.
Some of the features inside the apartment include five reception rooms, three main bedrooms, dressing rooms, a night and day nursery, and staff quarters.
---
CAR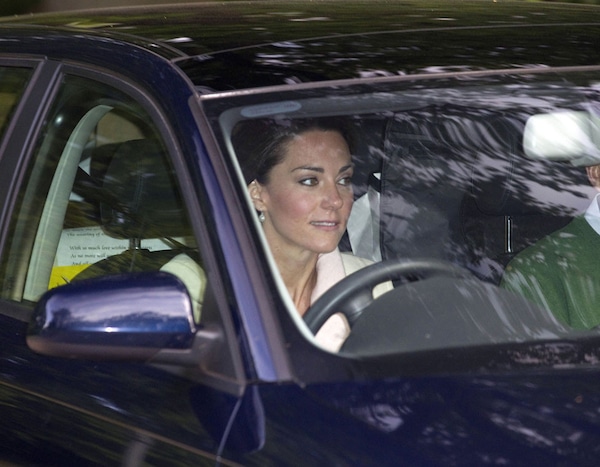 The Duchess of Cambridge's favorite car to drive is her and Prince Williams Land Rover Discovery.
The car has a maximum top speed of between 120.5 to 129.9 mph and can go from 0-60 in 6.9 to 8 seconds.
Prices for this car, which has been modified to include a number of extra safety features comes in at £46,110 pounds.
She has also been seen in the back of other cars including the couples Jaguar XJ and the Armored Royal Bentley.
---
FAMILY
born to Michael Middleton and his wife, Carole, a former flight dispatcher and flight attendant, She has a younger sister, Pippa, and a younger brother, James.
She met Prince William in 2001 and after a long relationship, their engagement was announced in November 2010.
They married on 29 April 2011 at Westminster Abbey and The couple's three children, Prince George, Princess Charlotte, and Prince Louis of Cambridge, are third, fourth, and fifth in the line of succession to the British throne, respectively.
She is is descended from King Edward IV through her mother, Carole Middleton, and from King Edward III through her father, Michael Middleton.
Ellen DeGeneres is reported to be a 15th cousin of Catherine, Duchess of Cambridge.
---
FRIENDS
Some of her close friends include Lady Laura Meade and husband James Meade, and Thomas van Straubenzee and his fiancée Lucy Lanigan-O'Keeffe.
Other close friends include college mate Emilia Jardine-Paterson, fellow St. Andrew's University student Oliver Baker and one of Princess Charlotte's godmothers, Sophie Carter.
---
LIFESTYLE & CAREER
formally introduced to public life on 24 February 2011, two months before the wedding, her first public appearance was at a fundraising event organised by the Teenage Cancer Trust in December 2010.
The Duchess's first official engagement after the wedding came in May, when she and her husband met Barack Obama, the President of the United States.
Since then she has met many influential people including Holly Willoughby, President Alvi and Imran Kahn.
She has tackled a large range of issues surrounding mental health and disabilities with visits to charities and hospitals to spend time with mothers and children.
In January 2019, it was confirmed that the Duchess would work together with the Royal Horticultural Society as one of the co-designers for a garden display at the 2019 Chelsea Flower Show.
She is prominent for her fashion style and has been placed on numerous "best dressed" lists and was named one of Richard Blackwell's ten Fabulous Fashion Independents of 2007.
---
---
For more amazing net worth and lifestyle articles publishing in 2021 please CLICK HERE and remember to check out more great content by clicking HERE.