David Beckham and Victoria Beckham have a combined estimated net worth of $770 Million Dollars, Vidello Productions takes a look at 15 expensive things they own.
---
---
15. Beckingham Palace
Situated near London, this massive palatial house was purchased by David and Victoria Beckham in October 1999.
It's thought the pair paid roughly $3.9 Million Dollars for the property which is located in the town of Sawbridgeworth, Hertfordshire, London.
The 24 acre estate features 7 bedrooms, 7 bathrooms, indoor and outdoor pools, flood lit tennis courts, snooker room, petting zoo, private gym, personal helipad and recording studio.
The 52ft garden with marble flooring and large pavilion also includes a 4ft barbecue that alone is thought to have cost almost $100,000 dollars.
There are also three $14,000 dollar Gazebos, each having their own special theme designed by Victoria Beckham.
The Beckham's regularly use the property to host private parties and events.
The home was recently sold for £12 Million dollars to buy another home in central London.
---
14. Kensington Mansion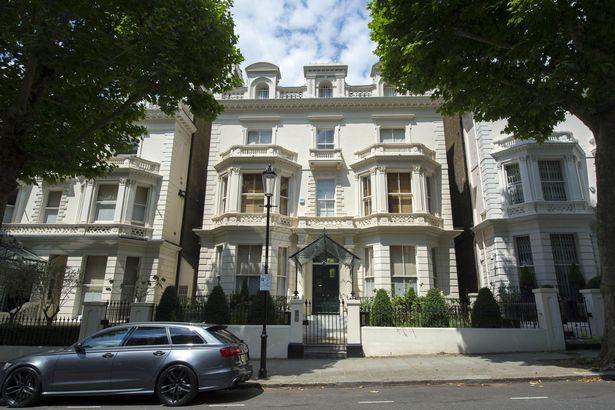 Its possibly one of the most extravagant houses the couple have ever owned.
This massive home located in Kensington is said to have been purchased for around £30 Million pounds.
The house is said to have had £3 million pounds put aside for re-decoration and new fittings include a secret door built into a bookcase.
Starting with the lower ground floor, the home features a larder, power room, playroom, store, delivery room, study and paved area with secret tunnel leading to an oriental garden.
Moving up to the Ground floor they have a family living room, dining room, restaurant standard kitchen and the hidden door leading to a private office.
The 1st floor has 2 master bedrooms, large terrace, manicure and make-up room and a personal dressing room where Victoria Beckham can pamper up.
The 3rd floor is reserved for David's man-cave that features a large pool table, flat screens TV and mini-bar with 3 guest bedrooms adjoining.
---
13. Domaine Saint-Vincent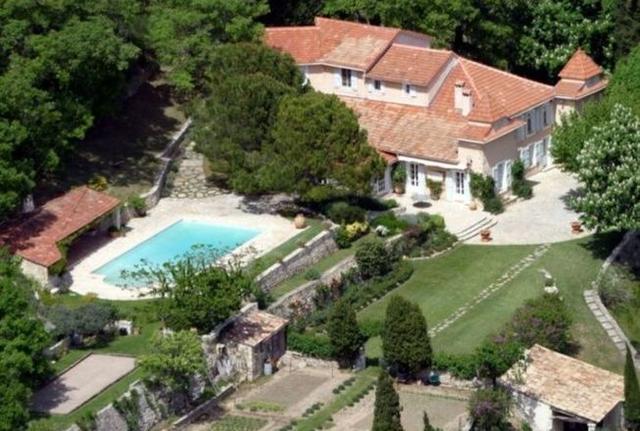 Moving over to the south of France now where the Beckham's own a large mansion in a place called Le Domaine Saint-Vincent.
It is located in the Village of Bargemon in the Var district of France and was built in the 19th century and is thought to have cost around $3 Million Dollars.
The house features 15 bedrooms, a personal chapel, private farm and outdoor swimming pool.
The house is reportedly haunted and that's one of the reasons why they put the house up for sale some time ago.
---
12. Art Collections
To say Victoria Beckham is an art collector is an understatement, she has an exclusive collection of modern art pieces.
She owns pieces from artists such as Christopher Wool, Richard Prince, Damien Hirst and Felix Gonzalez.
Some of the artworks include a carpet of silver-wrapped candies, Things Fall Apart painting by Mark Bradford and Damien Hirst's "All You Need is Love, Love, Love, 2008.
The collection is almost priceless, so let us know down in the comments what you think it may be worth.
---
11. Spanish Villa
Another massive palatial villa which the family own lies on the outskirts of the Spanish city of Madrid.
Purchased for a reported price of $6.21 million in May 2005, this property has had a large security presence and upgrades to its camera, electric shock and other surveillance systems.
The house lies in proximity to another property owned by Spanish King Jaun Carlos and for this very reason it's covered by a no fly zone.
The beautiful mansion has five bedrooms and 6 bathrooms, with the outside featuring an outdoor heated swimming pool, tennis courts, a small football pitch and a play area.
It's clearly one of the couples most fortified homes in their collection and a safe retreat from prying eyes.
---
10. Aston Martin V8 vantage
Featuring his own personalised registration plate marked DB7, this acts as both a reference to the car and both Beckham's initials and football shirt number.
With regards to the car, its brick red, has a top speed of 189.5 miles per hour and if you're looking to purchase one of the newer models for yourself then expect to pay close to the 100,000 pound mark.
The car can come in both the coupe and convertible models and the new version features a 4.0-liter twin-turbo engine.
---
9. Beverly Hills Mansion
As you can see the Beckham's own a lot of houses and after David Beckham's transfer to LA
Galaxy, they purchased this home located in a private area of Beverly Hills.
The inside of the home features hardwood and slate floors with six fireplaces and full air-conditioning and a heated outdoor pool.
Over the space of 13,000 square feet you will find numerous bedrooms, bathrooms, cinema room, personal gym and all rooms have ocean views.
Security is tight with modern surveillance cameras, iron gates and personal security services.
The Beckham family is thought to have purchased the mansion for around $22 Million Dollars and have neighbours such as Jay Leno and Tom Cruise.
The house has even played host to the Duke and Duchess of Cambridge.
---
8. Hummer H2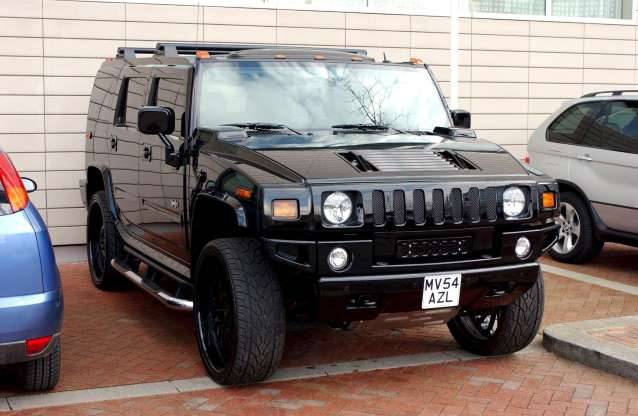 Another massively modified car owned by David Beckham, this Hummer H2 includes super-low-profile wheels and the logos VII and VB on the seats.
The car is thought to have cost $103,000 dollars with Beckham investing an additional $33,800 on extra lavish accessories.
It has a top speed of 177km/h and features 393 bhp with an acceleration speed of 0-60 in 10 seconds.
This is a powerful looking car and its currently un-clear is Beckham still owns it.
---
7. Dubai Apartment
David and Victoria Beckham treated themselves to a luxury apartment in the world's tallest building in 2009.
Its thought the property, which sits on an unknown floor has amazing views of the city and was purchased for a price of around 5 Million pounds.
There are 7 bedrooms, 2 large bathrooms and a fitted kitchen with access to the buildings resident only gym and viewing deck.
Keep watching to see the families other property in Dubai.
---
6. Porsche 911
Switching to a David Beckham motor this time, this Porsche 911 was recently auctioned off for a cool $227,000 dollars.
One of the reasons for such a high price was in addition to the purchase costs, David Beckham spent roughly $100,000 on high spec customisation for the car.
These modifications included custom leather seats, advanced braking system, high end alloy wheels and more.
The car has approximately 345-horsepower and a 3.6-litre flat-6 engine.
Zero to 100 kilometers per hour comes in 3.3 seconds and it has a top speed at over 300 kilometers an hour.
---
5. Palm Island Home
David Beckham owns a luxury Villa on the man-made Island, The Palm Jurmieh, located off the coast of Dubai.
The luxury seven-bedroom home cost him $1.6 million and while these properties are not the biggest, it features an outdoor pool and Barbecue area.
Other famous footballers who own homes on this island include Michael Owen, Wayne Bridge, Ashley Cole, Joe Cole, Kieron Dyer and David James.
Look out for some of them featuring in our up-coming most expensive lists.
---
4. Bentley Continental GT
One of Victoria's favourite cars in the large his and her collection which we cover later is the Bentley Continental GT, which provides her with ultimate luxury on the road.
It comes equipped with a massive 6-litre twin-turbo V12 engine delivering 567 bhp and can attain acceleration from 0-60 km/hr in just 4.4 seconds.
The car features a top speed of 198 mph and has active air suspension for improved aerodynamics, four zone climate control, 10-way powered front seats, parking sensors, eight speaker audio system and one of the world's most advanced navigation system.
---
3. South London Home
One of the more modern homes in the Beckham's collection, this James Bond style home lies in South Central London.
Its thought the family paid roughly 20 Million pounds to acquire the home, which had offers from over 4 continents.
Security features on the house remain top secret however they feature high walls, controlled gate and the walls are apparently lead lined.
There is 4 bedrooms, large rear garage, multiple bathrooms, large window over looking the entrance and all other features remain a secret.
Its thought that the circle tube line runs directly under the property and trains can be heard going by.
---
2. Car Collection
As well as the cars above, this celebrity couple own a massive range of other cars between them.
These include a Bentley Arnage, Mercedes CLK, Cadillac Escalade, Audi RS 6, Audi A4,
Chevrolet Camaro, Rolls Royce Phantom Drophead Coupe, Ferrari 612 Scaglietti, BMW X5 and Jaguar XJ.
David's collection also includes a Lamborghini Gallardo, Audi S8, Audi Q7 and Porsche Caynne.
One of the cars that Victoria Beckham is most often seen driving is a Black Range Rover Sport and she also owns an Audi S8.
---
1. Thailand Villa
Perched high on a hillside in Thailand lies this massive luxury villa, purchased by Victoria Beckham in 2008 at a cost of around $5.8 Million Dollars.
The home is spread over three floors and sits on 8 acres that's covered by lush greenery.
Very little is known about the inside of the house and it's not thought any pictures currently exist.
The villa overlooks the private beach below which is part of the complex.
---
Thanks for reading this article on 15 Expensive Things Owned By David Beckham and Victoria Beckham, please check out our homepage for more great content and the video above from our YouTube channel.