Jeremy Charles Robert Clarkson is an English broadcaster, journalist and writer who specializes in motoring, and more recently, farming, today we look at his net worth and lifestyle.
JEREMY CLARKSON NET WORTH – $66,600,000
NAME: Jeremy Charles Robert Clarkson
OCCUPATION: Television Presenter, Writer & Farmer
BIRTHDAY: 11th April 1960
COUNTRY OF BIRTH: United Kingdom
SOURCE OF WEALTH: Television Work, Books & Farming
PLACE OF RESIDENCE: Chipping Norton, UK
---
---
EARLY LIFE
Born in Doncaster, West Riding of Yorkshire, Jeremy Clarkson attended the private Hill House School, Doncaster, and later Repton School where he described extreme bullying as making his life almost suicidal.
After being expelled from Repton School for unsociable behaviour he left with poor grades and later played the role of Atkinson, a public schoolboy in the BBC radio Children's Hour serial adaptation of Anthony Buckeridge's Jennings novels.
---
HOUSE
Situated on his 312-acre farm, yes the farm from the show, his £4.25 million estate once featured a large home that he decided to blow up and replace with a new six-bedroom Cotswold mansion.
Along with the main house, which is being completely re-constructed, the barns and gardens are also getting a full makeover with features such as a vegetable patch, potting shed and plant room.
The new 12,173-foot family property includes an attic games room, orangery, room for five cars, and a special garage for his quad bikes.
Also included in the build are a yard for horses, five bathrooms, sensational party barn and several farming buildings.
---
CARS
Over the years, Jeremy Clarkson has driven thousands of cars, and he actually went on to buy some of them with his most favoured cars including the likes of the Lamborghini Gallardo Spyder, Volvo XC90, Porsche 911, Volkswagen Golf GTI, McLaren 675LT, BMW M3 CSL, Lotus Elise 111S and Aston Martin Virage.
Other cars in his collection include some classics such as the Volkswagen Mk1 Scirocco, Honda CR-X, Ford Escort RS Cosworth, Jaguar XJR 4.0, Jaguar XJ6, Ferrari F355, Jaguar XJR V8, 1986 Alfa Romeo GTV6 and Mercedes 600 Grosser.
He is also a fan of 4×4 vehicles and owned or once owned a Toyota Land Cruiser and 2009 Range Rover.
He also owns a considerable amound of farm equipment including a tractor made by Lamborghini.
---
FAMILY
Clarkson's first marriage was to Alex Hall whom he married in 1989 however the couple split just 6 months later.
Clarkson married again in 1993, this time to his manager Frances Cain with whom he has three children.
He is currently in a relationship with Irish born former actress and screenplay writer Lisa Hogan who also appears with him in Clarksons Farm.
His father Eddie Clarkson passed away in 1994 but not before running a manufacturing design business in the early 70s with his wife, and Clarkson's mother, Shirley
---
FRIENDS & ENEMIES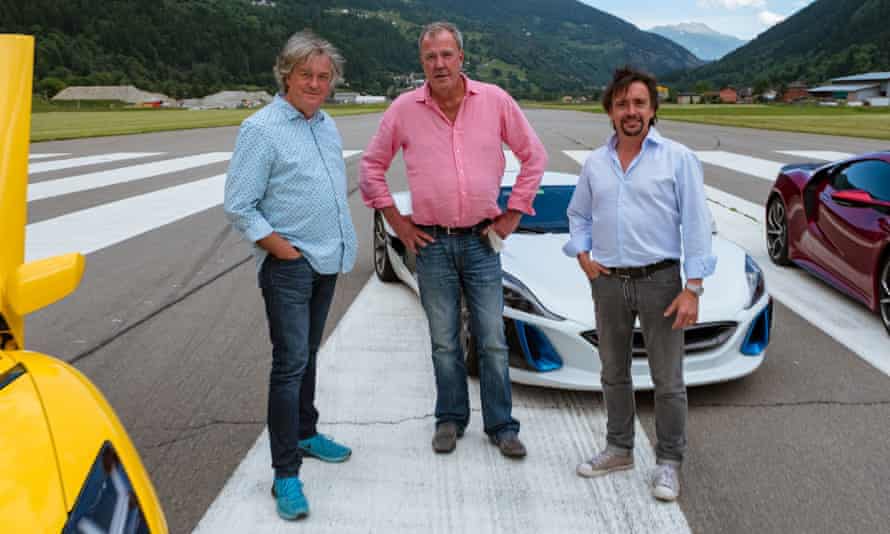 Jeremy Clarkson is friends with thousands of people from the world of TV including James May, Richard Hammond, Andy Wilman, Phillipa Sage and Casey Anderson.
In his series of Clarkson's farm, Jeremy became good friends with fellow farm hands Kaleb Cooper, Charlie Ireland, Gerald Cooper and Ellen Helliwell.
He is also best pals with David Cameron and is good friends with Michael Schumacher despite his serious Skiing accident.
With regards to haters or people disliked, Jeremy has a few and these include Piers Morgan, Greta Thunberg, Elon Musk, Will.I.Am, Will Young and Chris Evans.
---
LIFESTYLE
Jeremy has toured the world driving cars and some of the most interesting places he has toured include Italy, Argentina, Malaysia, and Burma.
Jeremy owns a number of expensive watches including an IWC Pilot Chronograph Top Gun and an Omega Seamaster Planet Ocean.
He has recently quit smoking cigarettes however he once smoked every day before being told to stop by his doctor.
---
---
Thank you for taking the time to read this amazing article, please go and check out our homepage for more great net worth content publishing every day!