Maria Sharapova is a Russian former professional tennis player, today we look at her net worth and lifestyle.
---
MARIA SHARAPOVA NET WORTH – $195,000,000
---
NAME: Maria Yuryevna Sharapova
OCCUPATION: Tennis
BIRTHDAY: 19th April 1987
COUNTRY OF BIRTH: Russia
SOURCE OF WEALTH: Tennis
PLACE OF RESIDENCE: Bradenton, Florida
---
---
EARLY LIFE
Maria Sharapova was born on 19 April 1987, in Nyagan, Russian SFSR, Soviet Union and hit her first tennis ball at just 4 years old.
She her first tennis racquet in 1991 and began practicing regularly with her father at a local park.
Her first tennis lessons were with veteran Russian coach Yuri Yutkin who immedietly noticed her amazing hand-eye coordination.
At the age of 6 she attended a tennis clinic in Moscow and in 1994, after her father borrowed the money, Sharapova and her father travelled to the United States for tennis lessons in Florida.
Sharapova initially trained with Rick Macci before the academy came up with the $35,000 fee and she joined aged 9.
---
HOUSE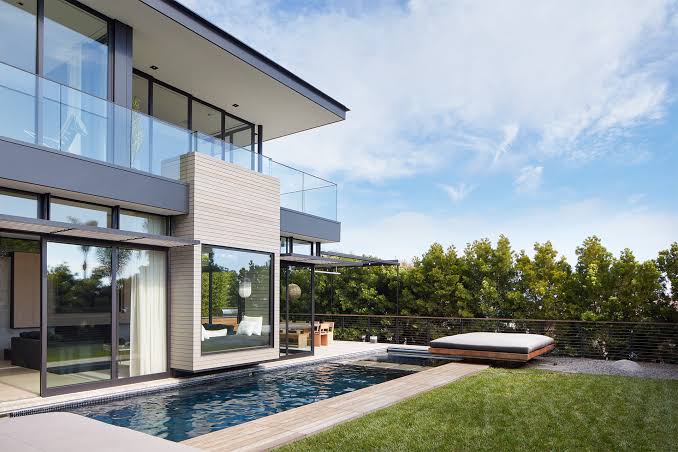 Maria Sharapova's dreamy Los Angeles home is a testament to the tennis great's style, spirit, and focus.
Located on a sloping site with expansive ocean views from Palos Verdes to Malibu, the three-storey home has a ouble-height entry gallery and a large pool and alfresco entertaining area.
The home has a large underground lounge with bowling alley, master suite and guest suites, contemporary bathroom and features high windows with sliding doors.
---
CAR
The first Female Ambassador for the Porsche brand, Maria Sharapova has also collected a number of cars over the years.
She owns a beautiful blue-grey Porsche Panamera and when this is in the shop, she also has access to a Porsche Macan finished in white.
She also owns a Range Rover that is powered by a 5.0 liter V8 engine, a six speed automatic transmission complemented by manual shift control and revolutionary Dynamic Response suspension.
---
CAREER
Maria Sharapova won the Eddie Herr International Junior Tennis Championships in 2000 at the age of just 13.
She made her professional debut in 2001 on her 14th birthday and played her first WTA tournament at the Pacific Life Open in 2002 and honed her skills in many junior tournaments.
She reached No. 6 in the ITF junior world singles ranking on 21 October 2002 and her best tournaments of the year were the Australian open and Wimbledon championship.
2003 saw her climb the world rankings extremely quickly and by the end of the year she was in the top 50.
Having been defeated in the 2004 Australian Open, she went on to play the spring clay court season and achieved rankings within the top 20.
The same year she acheved a huge upset at Wimbledon and beat top seed and defending champion Serena William's to become world number one.
Over the next 16 years she has raked in 5 singles titles, was named ESPY Best Female Tennis Player of the year 2012 and was even awarded Medal of the Order For Merit to the Fatherland for her outstanding contribution to tennis.
She retired from professional tennis in 2020, but has hinted at a comeback with possible training sessions already in the works.
---
FAMILY
Her parents are Yuri Sharapov and Yelena, are from Gomel, Byelorussian SSR.
Maria Sharapova has a partner named Alexander Gilkes and she has been dating the british businessman since 2018 after going on a date to an art gallery in Beverley hills.
She is related to Aleksander "Sasha" Vujačić, the Slovenian-American professional basketball player.
---
FRIENDS
Sharapova has many friends on and off the tennis court and some of her more famous friends include Andy Murray, Andre Agassi, Roger Federer, Bjorn Borg and Rafael Nadal.
She has other friends too, including Sasha Vujacic, Grigor Dimitrov, Charlie Ebersol and she once dated Andy Roddick.
---
LIFESTYLE
Sharapova has done a number of things since leaving tennis and these include writing a book and releasing a range of confectionery created by herself and Jeff Rubin.
Undertaking a significant amount of charity work, Sharapova is comitted to making sure children around the world achieve their dreams and she has also helped charities such as UNDP Chernobyl-recovery projects and has become a goodwill ambassador for the United Nations.
She has secured a number of endorsements including an 8-year deal with nike worth $70 million dollars and has been endorsed by Motorola for their mobile phone lines.
Some of her favorite foods include fish, vegetables, chicken and a healthy combination of various soups.
She loves to recieve flowers as a gift, collects stamps as a hobby and often sleeps in the afternoons to get through her rigerous training regime.
Her favorite city to visit is Amsterdam and her go-to karaoke song is "Believe" by Cher.
---
---
For more amazing net worth and lifestyle articles publishing in 2021 please CLICK HERE and dont forget to check out the video above and other great articles on this website!