Michael Novogratz is an ex-hedge fund manager, formerly of the investment firm Fortress Investment Group, today we look at his net worth and lifestyle.
---
MICHAEL NOVOGRATZ NET WORTH – $600,000,000
---
NAME: Michael Novogratz
OCCUPATION: Businessman, Investor, Bitcoin Holder
BIRTHDAY: 26 November 1964
COUNTRY OF BIRTH: United States
SOURCE OF WEALTH : Bitcoin Investments
PLACE OF RESIDENCE: United States
---
---
EARLY LIFE
Born and raised in Alexandria, Virginia, Michael Novogratz attended Fort Hunt High School and took a keen intrest in wrestling when he was younger, even becoming state high school champion.
In 1977 at the NCAA wrestling championships he made it all the way to 16th place and that same year he earned his Bachelors Degree in economics.
---
HOUSE
In 2006 Michael Novogratz purchased a duplex in Manhattan's Tribeca neighborhood that once belonged to Robert De Niro for around $12.25 million dollars.
He also owns a large 4.8-acre property in Amagansett, Long Island, New York however neither of the interiors of his homes have ever been revealed.
---
CAREER
Michael Novogratz started his career of in the National Guard, training as a helicopter pilot and later wen ton to begin his investment career working for Goldman Sachs in 1989.
Starting out as a short term bond salesman with the company he lived in Asia from 1992 to 1999.
His work with Goldman took him to Tokyo in 1992 and later Hong Kong where he was put in charge of a trading desk.
He achieved partner status with the company in 1998 and would later hold high profile positions such as head of income and eventually president of the company.
Novogratz joined Fortress Investments in 2002, just as the company was going public to raise $600 million in IPO funds.
Novogratz was appointed to sit on the Hudson River Park Trust's board of directors in 2010 and also serves as a member of the Federal Reserve Bank of New York's Investment Advisory Committee.
His main investment firm, Galaxy Investment Partners held over $250 million worth of Bitcoin between 2016 and 2017.
As of 2017, the comppany has made several large investments including to crypto technology company Bitfury.
---
FAMILY
Michael Novogratz has a sister named Jacqueline Novogratz who is founder and CEO of Acumen Fund and his brother Robert Novogratz is a designer.
His other brother John Novogratz is a senior managing partner at Millennium Partners.
His father, Robert Martin "Bob" Novogratz was a West Point football lineman and the winner of the 1958 Knute Rockne Award.
There is currently no information with regards to Michael Novogratz mother.
---
FRIENDS
Michael Novogratz has a number of friends in the world of investing including Wesley Edens, Robert Kauffman, Randal Nardone and Peter Briger, Jr.
He is also good friends with fellow Bitcoin investors Cameron Winklevoss and Tyler Winklevoss and often talks with them regarding the digital currency.
Other Bitcoin investors Novogratz knows include Barry Silbert, Blythe Masters, Dan Morehead and Charlie Shrem.
Michael Novogratz has a wife named Dora "Sukey" Caceres and together the couple have four children together.
---
LIFESTYLE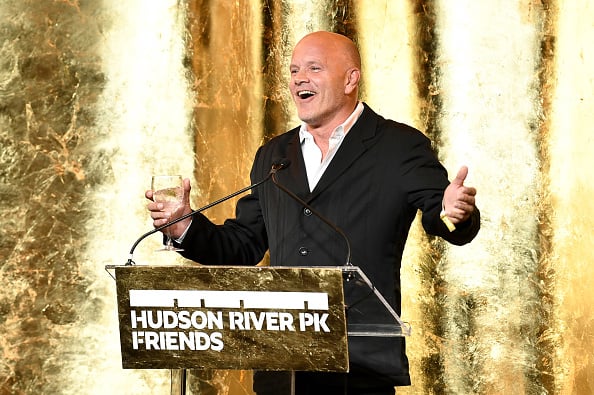 Masters is a huge fan of wrestling and participated in many matches and tournaments when he was a child.
He was named the 2010 USA Wrestling Man of the Yearand has campaigned for the sport to be returned to the Olympics when it was dropped.
In 2017 he was ranked the 317th richest person in the world after raking in over $2.3 billion dollars.
He was once a member of the secret Wall Street society known as Kappa Beta Phi and hs a seat on The Bail Project.
He supports democratic political leaders and gave his support to now president Joe Biden in the 2020 election, but did not donate any money.
---
---
For more amazing net worth and lifestyle articles publishing in 2021 please CLICK HERE and remember to check out a great video below!