Prince Philip, Duke of Edinburgh was the husband of Queen Elizabeth II of the United Kingdom and other Commonwealth realms, today we look at his net worth, life story and lifestyle.
---
PRINCE PHILIP NET WORTH – $30,000,000
NAME: Prince Philip of Greece and Denmark
OCCUPATION: Retired
BORN: 10th June 1921
DIED: 9th April 2021
COUNTRY OF BIRTH: United Kingdom
SOURCE OF WEALTH: Dutchy of Lancaster
PLACE OF RESIDENCE: Sandringham Estate & Later, Windsor Castle
---
EARLY LIFE
Born into both the Danish and Greek royal families on the 10th June 1921 in Mon Repos, Prince Philip was in line to both thrones and grew up on the Greek Island of Corfu.
Baptised in the Greek Orthodox rite at St. George's Church in the Old Fortress in Corfu and later in his early years he was banished from Greece by a revolutionary court for life.
Philip was evacuated from the island, along with his family in a fruit box style cot and carried to safety aboard HMS Calypso.
He was linked to a number of women in his early teenage years thanks to his charm and attractivness an was reportedly linked with Osla Benning.
Prince Philip was originally educated at The Elms American School in Paris and later attended Cheam School in the United Kingdom.
In 1933 he attended Schule Schloss Salem Boarding School in Germany but later relocated to scotland after the rise of the Nazi party.
---
PROPERTY
Prince Philip did not own much property as most of the Royal Assets withing the family belong to the Queen.
One property which does fall within his realm of comfort is Wood farm where he once enjoyed a relaxing retirement.
The farm lies inside the Sandringham state which has a combined collective net worth of close to $65 million dollars.
The home was the original favorite retreat for the queen and Prince Philip, and until the pancemic hit was where the Duke was staying
---
MILITARY CAREER
Prince Philip began his career in miltary service and completed his first cadet term at the Royal Naval College, Dartmouth.
He served in the British forces during the Second World War and and was appointed as a midshipman in 1940.
He spent four months on the battleship HMS Ramillies and on the 1st February 1941, he was promoted to a sub-lieutenant and later took part in the Battle of Crete.
After taking part of the Allied Invasion of Sicily, Prince Philip was promoted to lieutenant on the 16th July 1942 and later first lieutenant aboard HMS Wallace.
He served with the British Fleet aboard HMS Whelp in 1944 and was present in Tokyo bay when the Japanese surrendered to the Allies in July 1945.
After his service aboard the fleet, Prince Philip was posted to the HMS Royal Arthur Petty Officers School in Corsham WIltshire as an Instructor.
---
ROYAL CAREER
After his marriage into the Royal Family of the United Kingdom, Prince Philip became Coonsort to the Queen and later adopted the title of Duke of Edinburgh.
He supported his wife, the Queen in many of her official duties and engagements, both at home and Abroad.
He always accompnaied the Queen to the State opening of Parliament and travelling to various places in the commonwealth.
Prince Philip once described himself as the worlds most experiencd plaque unveiler after he was seen opening so many places.
He completed over 22,000 royal engagements for the family and visited thousands of places across the UK and the world.
---
FAMILY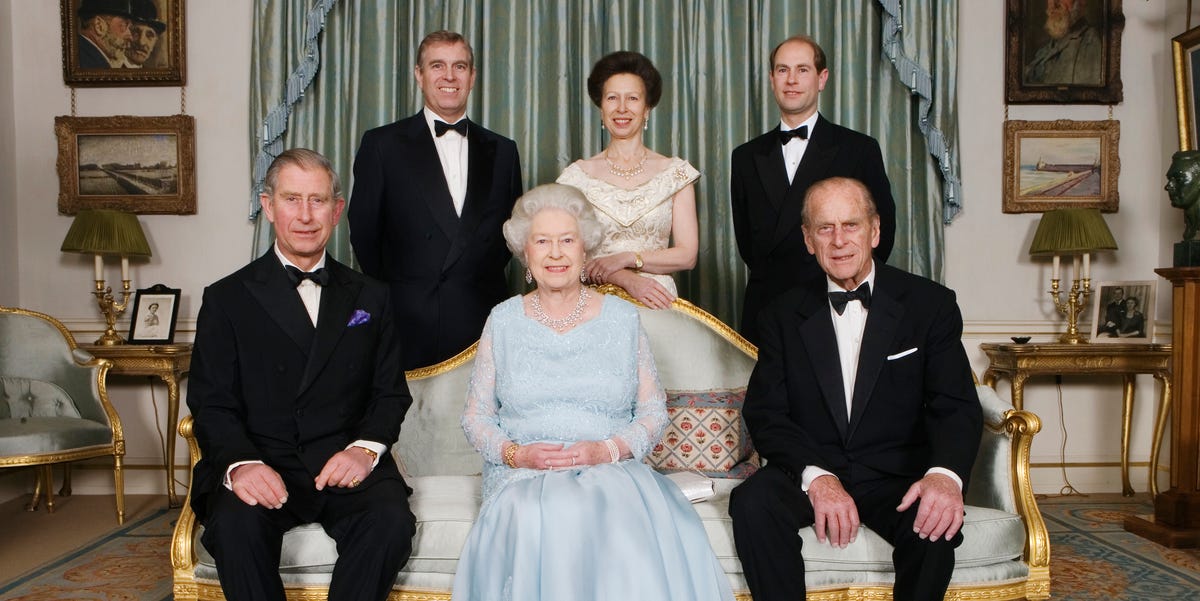 Being a member of the British Royal Family, Prince Philip had a large extended family that extends far beyond the Royal Family.
His parents were Princess Alice of Battenberg and Prince Andrew of Greece and Denmark, with his mother passing away in Buckingham Palace
Philip had four elder sisters who were Margarita, Theodora, Cecilie, and Sophie with his maternal grandfather being Prince Louis of Battenberg.
After his marriage to Elizabeth WIndsor he had several children with her including Charles, Andrew, Anne and Edward.
His grandchildren include Prince Harry, Prince William, Princess Eugenie, Princess Beatrice, Zara Philips, Lady Louise Windsor and Peter Philips.
His great grand children include Prince George, Savannah Phillips, Isla Phillips, Princess Charlotte, and Prince Louis.
---
FRIENDS
Prince Philip has thousands of friends around the world however he keeps his close circle pretty tight with close friends such as hs former Secretary Michael Parker and Prince Hassan of Jordan.
Another close friend of the Duke includes Penelope Brabourne, his former riding carriage driving companion, now Countess Mountbatten.
She is also close friends with both the Queen and Princess Diana was her daughters godmother.
---
LIFESTYLE
Prince Philip leads a generally quiet lifestyle and enjoys several activities when behind closed doors that include shooting game and riding in horse drawn carriages to soak up the fresh air.
The Duke is a fan of both Christmas and Easter holidays as its one of the rare times throughout the year that he gets time to spend with many close family members.
Many of Prince Philip's holidays are spent in Balmoral Castle Scotland, the Queen's favorite home and the couple were often seen out and about on the estate.
Prince Philip is also a huge fan of walking and can often be seen spending tme walking around the royal family's various estates.
Prince Philip passed away peacefully on April 9th 2021 at Windsor Castle.
---
---
For more amazing net worth and lifestyle articles publishing in 2021 please CLICK HERE and dont forget to check out more great articles.